Frequently Asked Questions
What days do you run tours and what is your season?
We are open as usual for our 2023 season on1 April. We will be developing our schedule in coming weeks but if you would like to book ahead, please don't hesitate to do so using our online booking page.
Do I need to book before the tour?
Yes you do.  Please call or send us an email. We do get fully booked some days in the summer so you must let us know in advance if you would like to join the group to avoid disappointment. SEND US AN EMAIL, TEXT OR CALL +44 (0)7598 925 243.
How big do the groups get?
Normally around 10 to 15 persons at the weekend but less during the week. Our limit is 25 unless it is a private tour or a pre-arranged school trip, in which case we can be more accommodating. If you'd prefer a more exclusive tour one can be arranged for you so just drop us a line.
Are the tours appropriate for children?
If your child can cycle by themselves and can maintain a leisurely pace, they certainly are! In fact we find that children probably gain the most from our tours because they learn some interesting stories that we hope they will remember and they get to hang out with young adults rather than just their 'boring' parents.
The vast majority of the tour is on dedicated cycle paths but we do go on the road at times, however that is only for a short distance and it's quite all right to just walk on the pavement if you really feel uncomfortable.
Due to safety issues we don't take very small children in trailers or tagalong bikes.
Is the tour conducted in English?
All our tours are entirely in English as standard; however we are able to provide tours in other languages including Mandarin upon request.
If you struggle to speak or understand English you are still very welcome to join us and meet other interesting people from around the world. We can even provide you with some written information in other languages if requested.
If you're a large group and want to bring your own guide/interpreter that would be fine and indeed we'd let your guide come free of charge.
Do you go inside all the colleges, monuments and museums?
Not all of them … that would take too long. We do manage to put our heads inside Trinity even if it's closed as we know a door round the side which is often left open but there is no guarantee.
It is possible to take a walking tour of some of the colleges or just pay for your own entry. St. Johns college is £5 for admission and Trinity is between £1 and £2. Kings College Chapel costs £7.50 to go in for adults.
Our recommendation is to go to Evensong in Kings College Chapel at 5pm every day except Sunday when it is at 10am and 3pm, which is completely free of charge and is sung by Kings College students and their choir boys. This is a seriously top tip!
Can I bring my own bike?
That's no problem at all but we can't offer you a discount for doing so I'm afraid.
Can I bring my dog?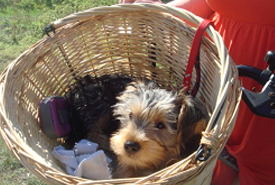 If you can fit it into a basket in the front of your bike then … why not! People have….
Where do we meet up and collect the bikes?
What if I am the only person who turns up for a tour?
Unfortunately we cannot provide tours for a single person.What haWhat
If you are the only person booked for the tour (which happens very rarely and only at quiet times of the year) we'll try to get in touch in advance to let you know. We can provide you with a bike, helmet, lock and map at a discounted rate for the day. We can also arrange punting or other things for you to do.
What happens if it rains?
This is a good one … we actually provide cheap ponchos and go anyway. Unless it's so miserable we can't conduct a tour, in which case we act in the traditional British way and 'go to the pub' and you are welcome to join us if you get the first round in (!)
What things do I need to bring with me on the tour?
I've listed a few ideas below:-
Comfortable shoes
Camera
Sun screen
Cash
ID (passport, drivers licence or similar)
Hat
Sun glasses
Jumper (could get cold … this is England)
Raincoat (if you're really worried it's going to rain)
Energy Bar
Bottle of water
Packed lunch (if you are so inclined)
Shorts rather than trousers (we don't want clothing getting caught in the bike)
Can I bring a bag with me and leave it in the garage?
You are welcome to bring a bag with you. Some bikes have baskets where you can put your bag, which is much nicer than wearing a backpack. We also have little bags to put a few items in that tie to the front of the bike that are very useful. You are also welcome to leave your bag locked in our office while we are out for the day (left at the owner's risk of course).
Where can I park my car?
There is parking available at the Queen Anne Car Park (to the side of Parkside Swimming Pool on Parker's Piece), which is the cheapest in the city. We have a Park&Ride initiative in Cambridge, which you are welcome to use, but leave plenty of time as it always takes longer than you expect. You can park in Chesterton and walk over a bridge and through Midsummer Common totally free of charge. Alternatively if you park at the far end of Mill Road it's free and you can walk into the city from there.
Do I need to bring or wear a helmet?
The short answer is no you don't. However for your information we do provide helmets. Parliament has yet to legislate them to be worn, however the Highway Code Rule 45 states they 'should' be worn. Given that the Post Office has insisted on postman wearing them since 2003 that's a pretty good indication that they are a good idea.
Helmets are provided on all tours.
What are the safety issues?
Our tours are as safe as we can make them. Safety is our priority above all else.
We follow carefully planned routes, which are virtually entirely in parks, bike lanes and large pavements. Many of the small streets in the City are one-way and only one lane.
Helmets are provided and come in a range of sizes. You are not currently legally obliged to wear a cycling helmet; however it makes good common sense. Suitable clothes for cycling include shorts as trousers/long legged 'pants' (for you Americans) can get tangled up in the chain. Comfort is also a safety factor.
We have a range of bikes with comfortable seats; however it is up to you to make sure the bike you use is suitable. If you are uncomfortable and want to change your bike that is no problem at all, just let us know.
Although our public liability insurance is up to date each participant is responsible for their own safety and actions. I'm sure if you initiate some common sense you should not get into any difficulties. Regardless you will be asked to sign a full disclaimer. If you are unsure as to what one of these are please let us know and we will do our best to explain it to you. A disclaimer will be provided to all our customers' right at the beginning of the tour and you will be given plenty of time to read through it and sign it before you are given a bike and start riding.
We shouldn't have to remind parents that they are responsible for their children.
Book online right now to start your adventure!