City Tour
(2 ½ hours – starting at 10:30am – approximately 4 miles)
This is our most popular tour and covers all the MUST SEE sights of Cambridge and it's University.
We take in some parks and commons (minding out for the cows) as well as seeing rowing and College boathouses. Then we move into the very centre to look at St John's College, Trinity College Great Gate and sometimes we get inside Trinity College Great Court where Harrold Abraham ran round in the time it took to strike 12 noon. From here we stop on top of Garrett Hostel Bridge to take some amazing photos of 'The Backs' of the Colleges and people punting.
Then we start to get off the beaten track and visit the Cambridge University Real Tennis courts and see how the game is played followed by the University Library and the Sidgwick Site, which is arguably the centre of the University of Cambridge. We then get to The Best Spot to take that iconic photo of Kings College Chapel before meandering back past the Mathematical Bridge and Queens' College, stopping on Kings Parade to check out the most amazing Corpus Christi Gold Clock that was given to the College by John Taylor. We just have time to cycle down Kings Parade and the front of King College Chapel to take a look at the Senate House, St Mary's Church and some guerrilla art before taking the bikes back to the garage.
We meet under the lamp in the middle of Parker's Piece (see meeting point page here) just to the south of the City Centre at 10:30am before walking to our garage to pick up the bikes on Elm Street and off we go! The tour will finish back at the garage just after 1pm.
Adult £25/Child £15/Student £20/Family of four £65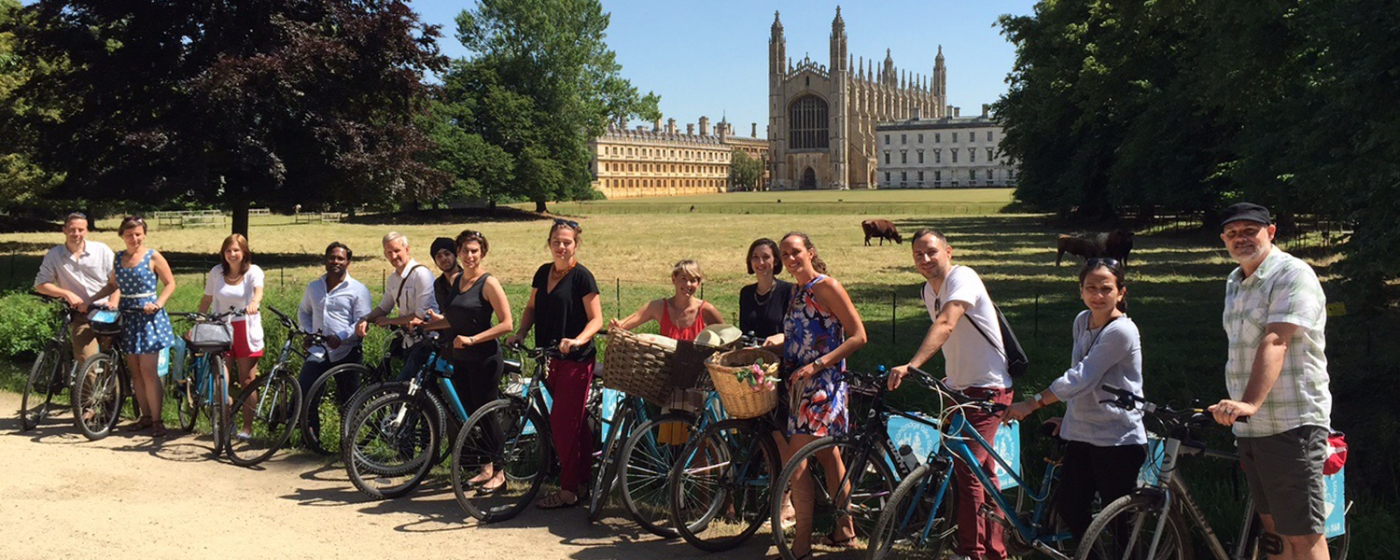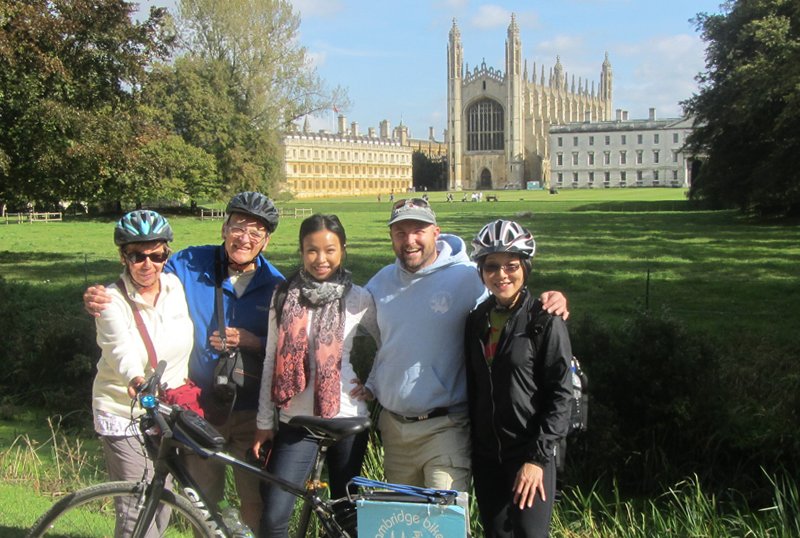 Granchester Tour
(2 ½ hours – starting at 1:30pm – approximately 4 miles)
A lovely afternoon in the countryside … how Splendid!
We take a quiet route out of Cambridge through parks to get out west and follow the river through Grantchester Meadows, made famous for Pink Floyd to the picturesque village of Grantchester. Here we take in the Orchard Team Gardens, which was frequented by the poet Rupert Brooke and the Old Vicarage that was his home. We like to have a moment to sit by the river down at the Old Mill before either going for a Cream Tea or a drink in the local pub where we play the oldest recorded pub game called 'ringing the bull'. You never know you might be sitting next to a Nobel Prize winner as Grantchester has the highest concentration of them in the world.
There is just enough time to take a look at the church and vicarage that is in the famous TV series Grantchester (named after the village) before we head back along the river. If you're daring enough you could bring your swimwear and cool off in the river Cam. We usually get back to the garage at around 4pm but we often get chatting in the pub and so this can easily become 4:30pm!
Adult £25/Child £15/Student £20/Family £65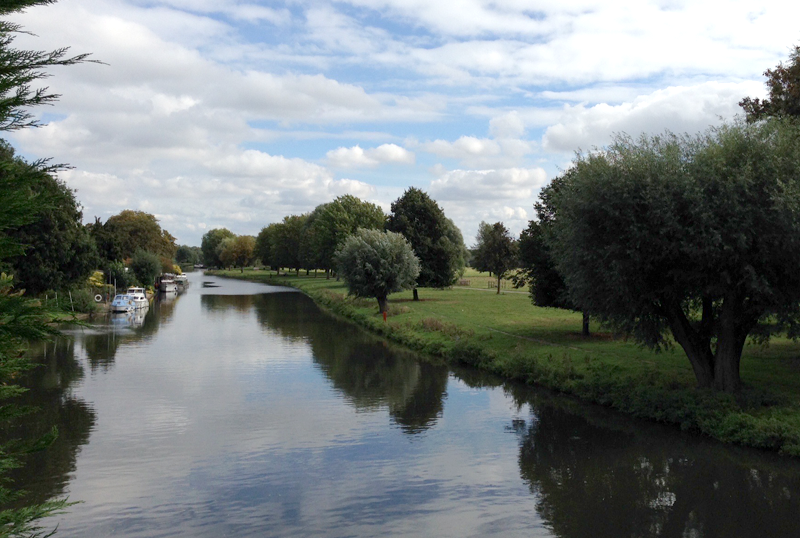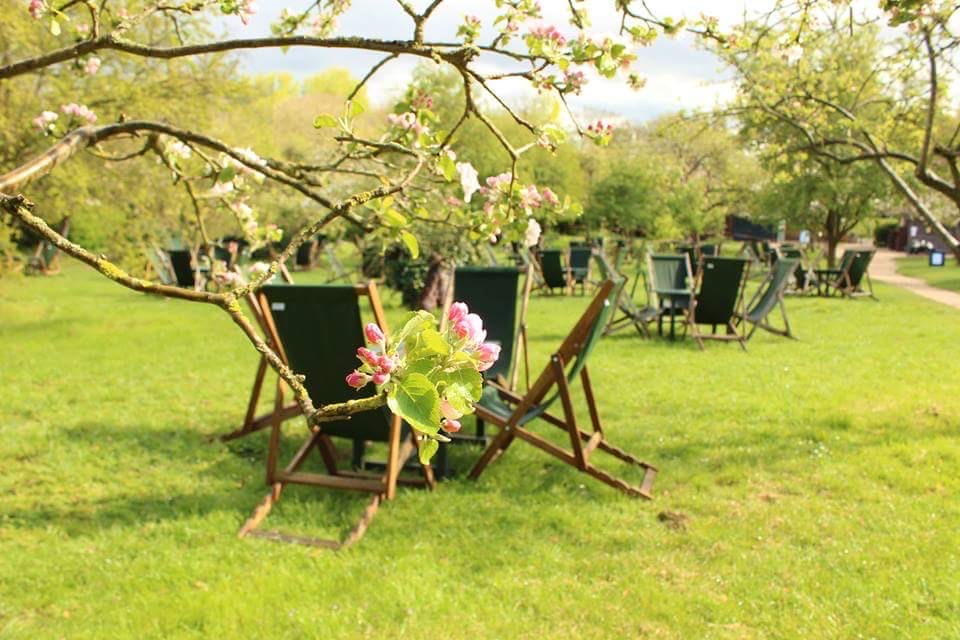 Full Day Tour
(5 ½ hours – starting at 10:30am – approx. 8 miles but at a leisurely pace)
This tour combines our popular City Tour in the morning with the splendid countryside Grantchester Tour in the afternoon, both of which are detailed above.
What a great day out! You have the must see sights of Cambridge in the morning, which is packed full of amazing history and stories followed by a break for lunch and then the relaxing green countryside in the afternoon with a bit of poetry and a refreshments, there really isn't a better way to spend a day.
Once you've done this tour you've really seen Cambridge!
10:30am meet at the lamp post for the City Tour that will be finished just after 1pm. Then there is a break for lunch and we can give you loads of local food options to choose from. The afternoon starts at 1:40pm at the garage before heading through Cambridge and out to Grantchester. We are usually get back around 4 or 4:30pm so there is even time to get an early evening punting tour before dinner.
Adult £40/Child £25/Student £30/Family £100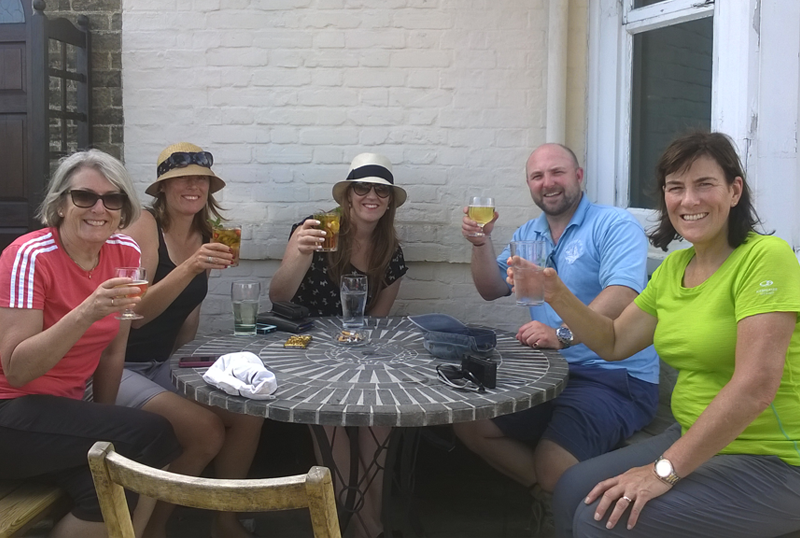 Other Information – Terms & Conditions
Please note that no food or drinks are provided on our tours, however there are plenty of opportunities to pick up refreshments along the way.
Bike hire is included in the price of all tours.
We only accept bookings made online direct from our website. You may not pay cash on the day unless this has been pre-arranged by email or phone with the office. info@cambridgebiketours.co.uk or +44 (0) 7598 925243.
We do require more than one person for a tour to take place. If there is only one person booked in, we will try to contact you in advance and re-arrange the date. If we don't manage to get in touch, there will be someone to meet you at the start and we can arrange bike hire at a discounted rate. We will refund your fee if you have booked in advance and the tour does not go ahead.
We reserve the right to cancel or postpone any tour for any reason at no notice upon the decision of the tour operator.
Further terms include if a ticket is bought through a third party website these suppliers are considered to be agents and Cambridge Bike Tours are not obliged to undertake any tour or activity due to the commitments made by an agent. Cambridge Bike Tours have complete discretion over all aspects of the tour.
Cambridge Bike Tours is a solely owned entity of Cambridge Bike Tours Ltd., and all tours are offered and provided by Cambridge Bike Tours Ltd.
Book online right now to start your adventure!